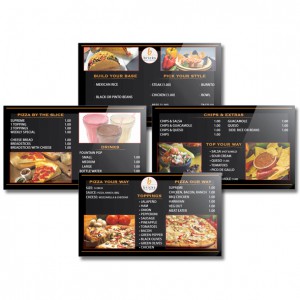 Origin Digital Signage is a leading supplier of digital signage products, as well as digital signage systems and digital signage integration solutions. We know it's no easy task to find a digital signage company capable of integrating excellent content, reliable resources, true industry expertise and on-going support.
It all starts with creative design, one of the many, varied services Origin offers. We facilitate the entire process, offering inventive solutions and continued support to our customers in a wide range of markets – from hospitality, restaurants, corporate, education and health care to convenience stores, food courts, grocery stores, theaters and stadiums.
Our digital signage experts sit down with you and figure out exactly what your needs are and how they can be met. We take the time to build something that is custom-made that is individual to you and your business. We understand that our digital signage solution is an extension of you and your band and we take that into consideration. We don't just sell you signage; we provide solutions that meet your specific needs, budget, expectations and deadlines.
Later our experts can provide content refresh services and up-to-date technologies to keep you on the cutting edge of digital signage. We can also help you find the perfect hardware that will make your digital signage content dynamic!  Beyond our wide range of digital signage products, it's our services that truly set us apart from the competition in the eyes of our clients.
Contact Origin Digital Signage for more information on how we can help you with your digital signage needs today!