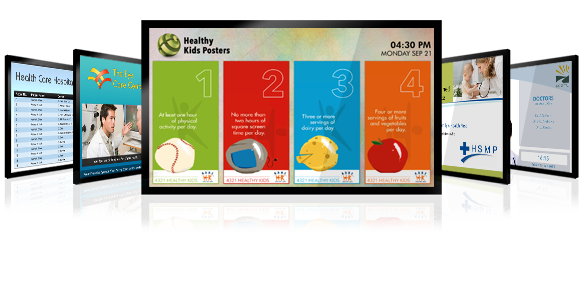 The American health care industry is rapidly moving toward very advanced patient information programs. Keep up with the changes by installing healthcare digital signage that efficiently assists patients, visitors and staff from Origin Digital Signage, a leader in digital signage display systems.
Find the right program for your institution or doctor's office from our vast selection of conventional signage and new, cutting-edge digital signage and digital signage software technologies. Whether your key purposes, is to inform, entertain and/or help your patients and visitors when they arrive at your office or health care institution, we have the perfect solution for you.
Our digital health care digital signage solutions include:
Waiting-room display and videos
Informational monitors
Hospital directory displays
Way-finding displays
Emergency code displays
Check out our example page to see our digital signage solutions! 
All of our digital signage comes with easy to use content management system software that allows you to interchange graphics and videos with ease. Keep your patients informed on your new healthcare services and products, insurance information, and health reminders! You will be able to update your content as often or as a little as you'd like.
We also have the reputation of providing in-depth services including custom digital signage design, project development, project management, configuration and training you on how to use your new digital signage system. We are more than just a place to buy your digital signage, we are with you from A to Z, and will always be there for you as we provide detailed customer support.