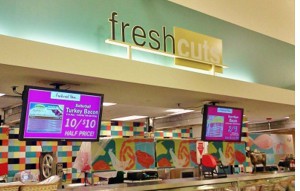 Grocery store digital signage across the country has been a proven tool for increasing foot traffic, generating sales and improving profits. Origin Digital Signage, a leader in all things digital signage, can help you cater to your customers' shopping needs with the latest and best in-store communications at the register, down aisles, above counters and so on.
At Origin, we have a wide selection of digital signage solutions that can help you give your grocery store an advantage from the competition and build your store's brand and image. Displaying sale items and higher profit margin products will help your customers with purchasing decisions and keep them moving throughout your store leading to more profitability!
Our grocery store digital signage offerings include:
Sidewalk and walk-in signage.
"Take a number" systems.
Deli counter displays.
Point-of-sale advertising monitors.
Plug-and-play promo solutions for existing monitors.
To see more examples of our digital signage solutions look at our gallery page!
We offer several different types of digital signage and hardware options and will help design a custom system that will meet all of your needs as well as stay within your budget. But we are more than just a place to buy your digital signage. We provide in-depth services from project management, development, installation, configuration and more importantly training so you can get the most leverage out of your brand new grocery store digital signage!