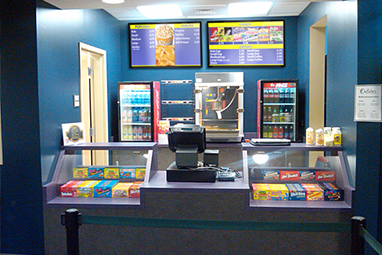 Officials and planners at stadiums and other large, event-based venues have an incredible undertaking when it comes to identifying all of the areas that not only require stadium digital signage but also need to be optimized for sales. Origin Digital Signage, a leader in the digital signage industry, can help meet the needs of the largest stadium and event crowds with state-of-the-art digital signage solutions that provide the flexibility required to present targeted messages and information to any type of audience. At the same time, we can provide high-impact signage that's wrapped in a personalised tone.
Because of this, design and placement become as integral as the actual signage. Our event signage can help you engage and entertain audiences every time, no matter the event, and we know how crucial design and placement is in this process. Choose from our vast selection of cutting-edge signage technologies for crowd communication and control.
Stadium Digital Signage includes:
Display information monitors
Boards for seating sections
Food vendors
Restrooms
To see our digital signage in action, check out our gallery page!
We are more than just a business that provides digital signage to stadiums and venues. We provide in-depth digital signage services ranging from helping design your new system, to the configuration, installation, and even hands-on training to help you get the most out of your new digital signage display. Especially at stadiums, updating and switching content quickly is important, our content management systems are simple to use!