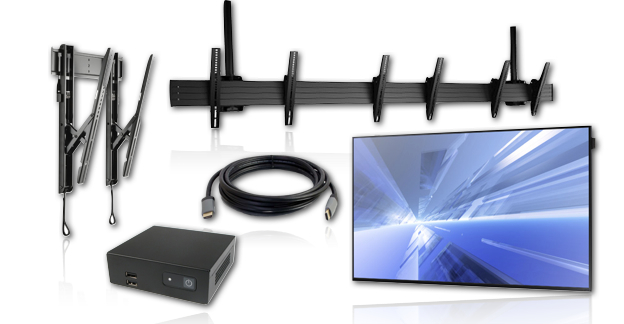 From indoor and digital menu boards to drive-thrus,
display fixtures
, banners and graphics,
Origin Digital Signage
, a leading supplier of indoor, outdoor
digital signage
and
digital menu boards
, has you covered. And
hardware for digital signage solutions
is a key component.
Coupled with our custom signage capabilities, we're able to provide our clients' total digital signage solutions that meet their specific needs, budget, expectations and deadlines. Our digital signage experts can help you choose the right screens, mounts, cables and accessories for our customers' environment. Origin Digital Signage can deliver the perfect digital signage system to work within your location – and within your budget.
Our wide range of digital signage hardware options include:
Commercial screens: We offer commercial-grade LCD digital signage displays from well-known brands/companies such as NEC and Samsung.
Mounts: Choosing the right mount can be tricky, especially since there are thousands of mounts available on the market. However, we make the decision much easier for you, whittling the choice down to a select few that fit almost all applications. Plus, our expert technicians can walk you through all of the mounts we offer, and. help you determine which kind will work for your business. We ensure the mount will match the screen and accomplish your goal.
Cables: Quality cables make all the difference. We'll provide cables from the basic 3-foot HDMI to long-run video of Cat 5. Choosing the right cables can save thousands of dollars by eliminating the need for additional media players and software licensing. And our technicians will install the cables to ensure your digital signage system works at optimal capacity.
Outdoor screens: We also offer digital signage solutions ideal for outdoor spaces. They are scalable and sunlight readable outdoor screens, and our experts can explain the options we offer to fit your needs and price point.
Accessories: Origin Digital Signage offers all of the accessories you'll need, from protective covers and in-wall boxes to floor stands (for trade shows) and more.
Contact us for additional details today!