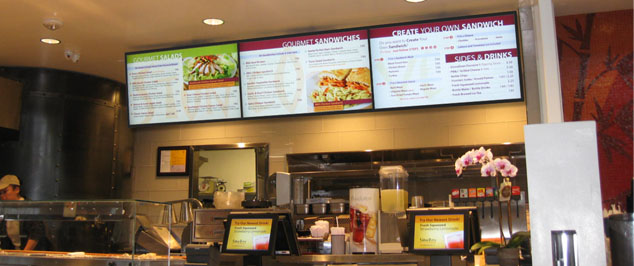 Distinctive signage and displays add a level of refinement and sophistication to restaurants that enhance patrons' dining experience. Let Origin Digital Signage, a leader in the digital signage industry, assist you with creating that ideal atmosphere at your eating establishment. Our restaurant digital signage can help your customers make purchasing decisions quicker, reducing wait time, which means more customers served which in turn increases your profits!
With our digital signage solutions, we can help you create a consistent brand experience, help you build foot traffic and visibility and ensure that personal tone and touch is evident via signage that's tailored to your restaurant's and your customers' specific fine dining needs.
Our restaurant digital signage options include:
Welcome displays
Menu boards with limited time offers and special menu item graphics
Special-events announcements signage
Look at our examples page and see how our digital signage looks and operates! 
We understand that not everyone is as good with technology as we are. That's why we provide our clients with a multitude of services including one-to-one training. Learn how to use your brand new digital signage to its full capacity. We will teach you how to use the content management system and how to upload new graphics and videos.
We are more than just a store for you to buy digital signage products, in fact, our other services include custom fabrication, configuration as well as installation!