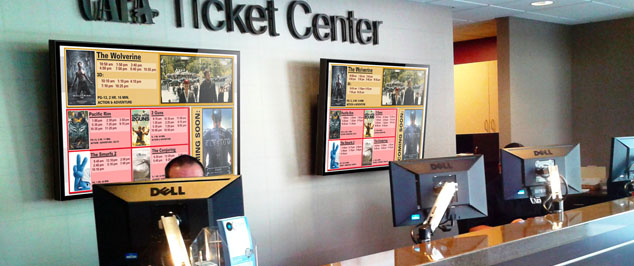 Eye-catching theater digital signage and displays are the perfect way for targeting movie patrons and customers who have come to your entertainment establishment for a satisfying visual cinema experience. Maximize your relationship with your patrons and enhance theater-goers' entertainment with state-of-the-art signage from Origin Digital Signage, a leader in digital signage. Digital signage has many applications in theaters including promoting upcoming films, listing accurate movie times, as well as offering limited time specials and menu items at the concession stand.
It's proven that dynamic digital signage can help your boost concession sales, keep patrons engaged while they cue up to buy tickets and streamline ticket sales to reduce customer queues. The more patrons you serve faster, the greater your profitability! Choose from our wide variety of cutting-edge digital signage solutions.
Theater Digital Signage includes:
Current playlist displays
Coming attractions displays
Local in-theater advertising/promotions
Menu boards for concessions
Movie menus for ticket counters and lobbies
To see all of our digital signage products feel free to browse our examples page!
We also want to stress that sell more than digital signage products. We are a full-fledged digital signage service company that offers creative design, configuration, installation and support. We are with you every step of the way. We also provide training so you can rest assured you will know how to use your new digital signage system to the fullest of its capabilities. We also can work with you to make sure your needs are met as well as your budget!