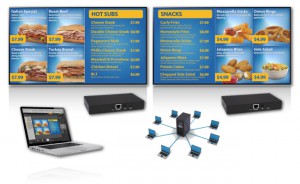 Origin Digital Signage, a leading supplier of digital signage, along with digital signage design and digital signage integration solutions, knows it isn't easy to find a digital signage company proficient at integrating brilliant content, trustworthy resources, proper industry knowledge and continuous support. And one of the key components in delivering all of this to customers is expert system configuration, set-up and installation, one of the many, various services Origin offers – from creative design and project management to consulting, implementation, training and support.
At Origin, when it comes to serving its customers successful, personalized digital signage solutions, we know the quality of installation is just as important as the choice of the right components and management of the network. That's why our trained, talented digital signage technicians are up to date on the latest technologies and support tools to avoid connectivity issues and get your system up and running as quickly as possible once the design, content and software are chosen.
Our team is fully committed to configuring and delivering fully customized digital signage display system to our clients that seamlessly integrate in their locations, and can train you and your employees to use the system and know all of its features.Beyond our wide range of digital – and conventional – signage products, it's our configuration service that, in fact, makes us stand out among our customers in a wide array of markets – from hospitality, restaurants, corporate, education and health care to convenience stores, food courts, grocery stores, theaters and stadiums. We don't just sell you signage; rather, we deliver solutions which meet your specific needs, budget, expectations and deadlines.
Contact Origin Digital Signage for more information today!